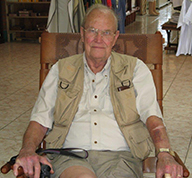 ROBERT (BOB) JOST REID
Robert (BOB) Reid passed away peacefully on Monday, May 5, 2014 at Milford Hospital. He was the husband of Marian (Mickey) Reid for 64 years; father of Laura (Peach) Reid, Nancy (James) Nastri, and Heather Reid, and the late Cynthia Reid Mihalik. Grandfather of Shaun Fettes and Casey Fettes; Anthony (Danielle) Nastri, Christina Nastri and Jennifer Nastri; John (April Knight) Mihalik and the late Joseph Smith. He was great-grandfather to Olivia Nastri and Jordan Knight.
Bob was born August 9, 1926 in Brighton, MA. He graduated from Brighton High School and attended Emerson College in Boston. He served in the MA National Guard, and was an Army Sergeant in World War II. Bob had an illustrious career in the communications field. He was active on the air in radio and television in Cleveland, Ohio 1949-1961, as news director and deejay. Bob and his family moved to Orange, CT in 1961. Among the movies he made were many sports training films for Yale; "A Badge of Honor" for Easter Seals, for which he won a Film Festival Award; "33 Fathoms Plus" which was a short film bought by Warner Brothers and shown nationwide with "Planet of the Apes"; "We, the Episcopal Church"; and "Orange 150" which was a feature-length film he donated to the Orange Historical Society. Bob had his own business, R.J. Reid Associates. He also worked for Milford Rivet and the Goldratt Institute, and was responsible for the marketing and advertising for Fish Mart over decades.
Bob was a true Renaissance man. His extraordinary enthusiasm, creativity and perfectionism were evident in everything he did and how he led his entire life. Some of his many and diverse passions included chemistry, photography, geology, philosophy, gardening, music, cooking and writing. Bob's mind never stopped.
Bob was a generous volunteer to many organizations. He served with the Orange Volunteer Fire Department and worked at their annual carnival. He also worked the Orange Country Fair. Bob was an active member of the Church of the Good Shepherd and served in various capacities through the years. He was on the Board of Directors of the Orange Chamber of Commerce, where he was awarded Director of the Year. He also provided services to the Sterling House in Stratford and the Christian Counseling & Family Life Center in Shelton, CT.
Bob traveled extensively during his life – from the Philippines and Japan during WWII, to England, Costa Rica, several countries in Africa, the Caribbean, and many places throughout the U.S.  As a lifelong professional photographer, a show of his work was held at the Davis Gallery in Orange, which highlighted artistic pictures from his travels.
In lieu of flowers, memorial contributions may be made in Bob's name to the Church of the Good Shepherd at the above address, or the Orange Volunteer Fire Association (OVFA), 625 Orange Center Road, Orange CT 06477.
The family wishes to extend their sincere thanks and appreciation to caregivers at Golden Hill Health Care Center, Milford Hospital and CT Hospice.