Leading Aquaria Dealers Know...
Top Quality Livestock Makes a Difference!
r
It's why over a thousand of them make Fish Mart their supplier of choice.
We are the Northeast's largest domestic and import distributor of fresh and salt water fish and invertebrates, aquatic plants, reptiles, small animals, birds, live and frozen food. We stock more, ship more, and provide more dealer benefits than any other livestock supplier.
All our customers- walk-in, delivery, or ship-out - expect and get first quality livestock and service... competitively priced! Shipping bags are computer labeled, identifying both stock and quantity. Toll-free ordering and knowledgeable product information is routine. Fish Mart fleet deliveries are prompt and dependable.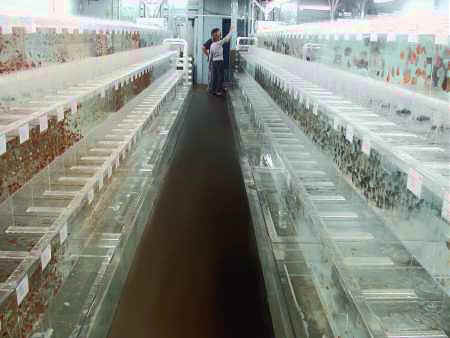 With over forty years of service to dealers throughout the Northeast, Fish Mart represents professionalism at its finest. From our state-of-the-art facility, to our people, to our modern, well
equipped fleet - we work hard to elevate your profitability and your business success.
Many of those dealers tell us they have fewer losses with Fish Mart than any other supplier. But maintaining our position as the leading professional pet wholesaler in the northeast depends upon a whole lot more than bringing you the highest quality livestock at a competitive price. When you look at the total Fish Mart package, it is clear that our service, product, pricing, and lower losses add up to the best buy for you... you always get the most for your money at Fish Mart!
Click on the following articles to learn more about Fish Mart!
What Dealers Say....
"Kudos on your web site! As owner of Harwich Pet Supply I want to compliment you on the wonderful job you are doing on your web site. I will be sending many of my customers to the Hobbyist's Corner for valuable information. Thanks for a great start!"
Sincerely, Doug Walker, Harwich Pet Supply
"Since I took over as the manager of the fish department at Pet Lover I have been ordering the majority of my livestock from Fish Mart. My salesperson Heather is very helpful. She has made suggestions to me about particular fish that she likes. On her word I ordered a few, I was very pleased with her opinion on more then one occasion. She has also helped me with questions from my customers. When I let her know that something is a special order she goes out of her way to make sure I get the best specimens available. Fish Mart has great prices, fantastic weekly and monthly specials, a large selection to choose from, and I ' m very happy with the quality of their livestock."

Wendy Latour - Fish Department Manager, Pet Lover

"We have been loyal customers of Fish Mart for many, many years.

They always have a good variety of fish and great new specials every month.

If you have any questions or problems, they're always there to help!

Fish Mart's sales reps and delivery personnel are the BEST!! And they deliver my fish right to my door.

You can't beat that!!!

Thank you for the great service,"

Kathy Devanex

, Newtonville Pet

"Fish Mart has the price and selection I want. Their product is healthy, and they stand behind it. They're always there to answer questions, and they do their best to get us our special orders."

Mike Nallen, Owner

Oceans of Pets, RI

"For as long as Mount Tully Kennels has sold fish, Fish Mart has been our supplier.

If a customer calls us and we don't have the answer, a quick call to our sales rep.

and both we and our customers have learned valuable information. Why buy anywhere else?"

Theresa Drew, co-owner

Mount Tully Kennels

, MA
If you are considering Fish Mart as a supplier, contact us at salesteam@fishmartinc.com
Fish Mart actively promotes the Aquarium Hobby throughout the Northeast
Home Meet Our People Hobbyist's Corner Contact Us About Us Note Book
Website by Freeman Roberts Associates
Copyright © 2017 Fish Mart is a Registered Trade Mark of Fish Mart, Inc